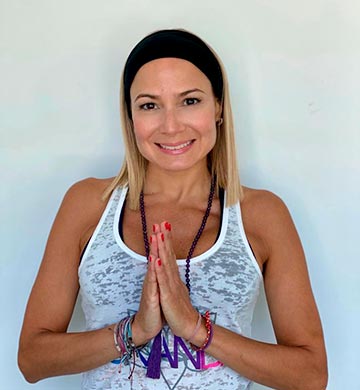 Gaby is from Venezuela, and moved to Miami about 20 years ago. She works for a French AdTech Company as CFO for the LATAM Region, which is a beautiful and very dynamic but at the same time very stressful and demanding job, that requires a lot of travel and working hours.
By the end of 2017 Gaby decided to do yoga looking for something to help her with her lower back pain and stress relief. She joined Skanda Yoga where she found a great community, and loving teachers.
At the beginning of 2019 she made the promise to dedicate more time to her mind, soul and body by doing yoga almost every day.
Not just her lower back pain went away but she started to feel great in her soul and spirit.
She decided to join the YTT200 in September 2019 and she is so committed to take her practice to the next level that she joined the 75hrs module of the Skanda YTT300 in February 2020 in Jamaica.
In September-October 2020 she'll be completing her second 75hrs module of Skanda YTT300.
She is a proud mother of two kids and grandmother of a baby boy. She found her partner and soul mate 7 years ago and is a stepmother his two girls. She loves yoga, Kite-surf, Ski and spending quality time with family and friends.
Gaby stands up for her charisma, her smile and her good sense of humor. She is always willing to help everyone and is very exited to share with the community the transformation she has experienced through yoga.
Gaby's class introduces foundational yoga postures, teaches you how to breath and helps you feel more comfortable in the yoga practice. Expect to move with your breath and focus your attention, and to be challenged both mentally and physically. This well balanced flow class will get you out of your head and into your body and your breath; modifications and adjustments always welcome.
Interested In
Join Our Team?
Vestibulum libero nisl, porta vel, scelerisque eget, malesuada
at, neque. Vivamus eget nibh. Etiam cursus leo vel metus.
Sed laoreet aliquam leo

Cursus eleifend elit

Aenean auctor wisi