To begin a yoga practice all you need is to be aware of your breath and have a flexible mind. With time, patience, and practice, flexibility will come. If you get lost during class, pause for a moment and watch the other students.
We highly suggest booking a private yoga class (offered at a 50% discount for the first private class only).
If attending to a group class, please let the teacher know you are new to yoga or new to Skanda Yoga; notify them as well if you have any specific needs, injuries or if you are pregnant.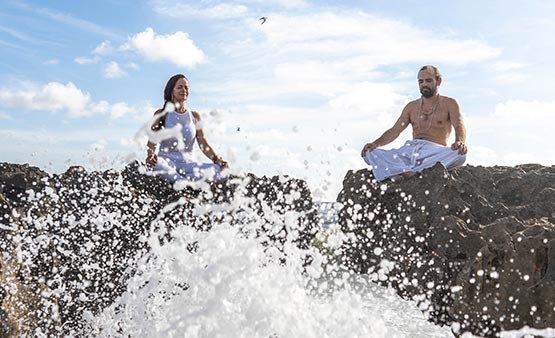 Anyone, regardless of age, can practice yoga. Through sensitivity, dedication, and time you will develop a practice that is right for you and you will get stronger in the process. You will also find huge benefits in the restorative yoga classes, therapeutic yoga classes, and workshops that we offer at our studios.
Try to avoid heavy meals for at least 2 hours before a class. However, you don't want to ever exercise without anything in your system or your blood sugar levels will drop and you can faint. Therefore, you should have a smoothie, juice or some kind of snack made of real food (organic ingredients).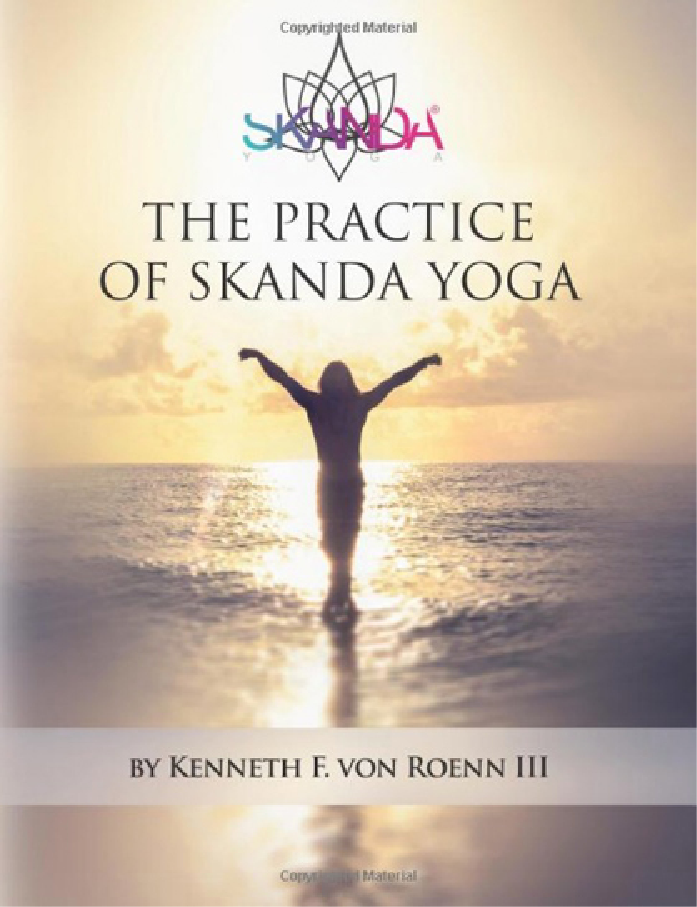 THE PRACTICE OF SKANDA YOGA
BY KENNETH F VON ROENN III
The Practice of Skanda Yoga presents a new system for progressing in hatha yoga based on Indian philosophy and mythology. Skanda Yoga is an alignment-based power yoga style. The book contains detailed instruction for 500 poses (700 images) with benefits, contraindications, and modifications. It presents alternate methods for acquiring an ideal form and how to apply modern scientific stretching techniques into traditional poses. It contains a restorative sequence, four initiation sequences, and 60 power yoga classes at 3 progressive levels that are based upon the 13-moon calendar known as the Dreamspell. It is a great resource for practitioners and teachers.
SKANDA YOGA: CLASSES OF ENCHANTMENT
BY KENNETH F VON ROENN III
Classes of Enchantment is the complimentary companion guide for The Practice of Skanda Yoga. It contains an introduction to the philosophy of Skanda, tips for developing an asana practice and creating a sacred space. It details 69 power yoga sequences with pictures and timing. There are four level 0 introductory practices, twenty main sequences at levels 1-3, and five level 4 master classes. The sequences follow the order of the Dreamspell calendar to bring practitioners into alignment with nature's cyclical patterns.
SKANDA YOGA STUDIO BY MINDBODY
Download the Skanda Yoga App today to plan and schedule your classes! From this mobile App you can view class schedules, sign-up for classes, view ongoing promotions, as well as view the studio's location and contact information. You can also click through to our social pages! Optimize your time and maximize the convenience of signing up for classes from your device! Download this App today!
SKANDA YOGA PRACTICE
-A daily practice yoga app for serious practitioners that want to advance their level.
-Approx. 500 poses with detailed alignment instruction.
-Classes follow the oracle of the 13-moon Natural Time Calendar known as the Dreamspell.
-There are 4 introductory classes, and 20 main classes at three different levels from beginner to advanced.
-The energy of the Dreamspell is displayed each day with the practice sequences.
-Contains detailed instruction for the Suns Salutation A & B.
-Detailed instruction and modifications for vinyasa techniques.
-Pranyama (breath control) and mudras (energy seals) are given for each day.
-Explanation of the day's energy with meditation, intention, and a focus to stay in remembrance throughout the practice.
-Displays the cycle of the moon.