To begin a yoga practice all you need is to be aware of your breath and have a flexible mind. With time, patience, and practice, flexibility will come. If you get lost during class, pause for a moment and watch the other students.
We highly suggest booking a private yoga class (offered at a 50% discount for the first private class only).
If attending to a group class, please let the teacher know you are new to yoga or new to Skanda Yoga; notify them as well if you have any specific needs, injuries or if you are pregnant.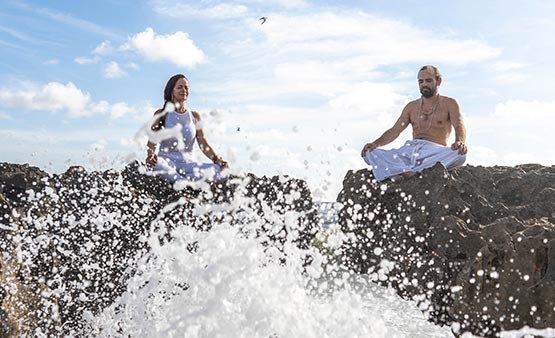 Anyone, regardless of age, can practice yoga. Through sensitivity, dedication, and time you will develop a practice that is right for you and you will get stronger in the process. You will also find huge benefits in the restorative yoga classes, therapeutic yoga classes, and workshops that we offer at our studios.
Try to avoid heavy meals for at least 2 hours before a class. However, you don't want to ever exercise without anything in your system or your blood sugar levels will drop and you can faint. Therefore, you should have a smoothie, juice or some kind of snack made of real food (organic ingredients).