LINA "SADHANA" VALLEJO
A teacher in the word's most profound sense – throughout all aspects of life – Lina Vallejo meets each individual that approaches her with absolute attention, compassion and integrity. A teacher of teachers, she has educated over one hundred new yoga teachers in the style of Skanda Yoga®, which she co-created with her husband and asana master Ken "Anand" von Roenn. She is the owner of Skanda Yoga Studio, elected 'Miami's Best' (New Times Magazine 2015), while also one of the most sought after one-on-one private yoga instructors in South Florida.
Lina Vallejo started teaching yoga in 2001, merely a few years after arriving to the United States from Bogota, Colombia, as a single mother of Valentina and Andres. She met her life partner Ken von Roenn in 2005 and recently became a proud grandmother of Violet Rose. Based in Miami, she currently teaches weekly classes and bi-yearly teacher trainings (200 and 500 RYT) at Skanda Yoga Studio when she is not traveling leading retreats and workshops.
Always approachable, Lina Vallejo's students feel comfortable asking advice in all areas of life, no matter if the issue is a torn rotator cuff or a broken heart, whether they have difficulties with work connections or seek a closer connection with the divine. Lina Vallejo truly sees her students, she can intuitively spot dormant potential in a pose, or the need to ease off the same pose, with stunning accuracy. Her alignment cues are often specific to each individual, making a group class setting feel similar to a one-on-one private class and making each student feel that they are truly being noticed.
With extensive knowledge of South American shamanic traditions, reiki energy work, numerology, nutrition, Thai massage, chakra balancing, as well as aroma- and crystal therapy, Lina Vallejo brings a touch of the otherworldly and sacred into everything she does. Her guided meditations and weekly sangha study groups focus on the practice of Bhakti yoga, the art of Self-knowledge through love and devotion. Her yoga asana practice has shifted from first Ashtanga, then Anusara, into her own Skanda Yoga®, which for the past seven years has been accompanied by a deep inner search for self knowledge. She has traveled to and learned from Indian Gurus, Mayan priests and Self-realized yogis and yoginis from all over the world, in order to absorb and share the understanding of each living being's divine connection with the true Self.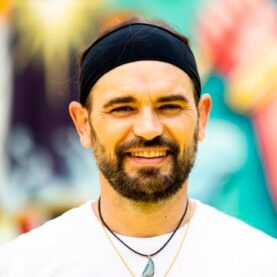 KEN "ANAND" VON ROENN III
Ken "Anand" von Roenn III (E-RYT 500) is the creator of Skanda Yoga (RYS), and is the director of the Skanda Yoga Teacher Training program. A practitioner for 20 years, Ken founded Skanda Yoga in 2009 after studying many hatha yoga traditions. Ken holds a B.A. In Philosophy, is a Level III Reiki Master, and is certified in Iridology. He was an Honors graduate in 2000 from the Yoga East Teacher Training program. He has led 19 teacher trainings in Miami and has published two books: "The Practice of Skanda Yoga," and "Classes of Enchantment."
Ken began his path in yoga at the University of Arizona in 1995. He took a course on Iyengar yoga to improve his flexibility for rock climbing. After climbing for several years he sustained two rotator cuff injuries, torn hand tendons, and a neuroma. Reconstructive surgeries were needed to repair the shoulders and yoga was his primary method for recovery. He enlisted in the Yoga East Teacher Training program and studied Ashtanga vinyasa intensely for a year under the guidance of Laura Spaulding. Ken began to work on the 3rd and 4th series of the Ashtanga vinyasa system and realized that if he was going to continue to progress then he would need more technique. He then began to study the system of Anusara Yoga and taught that method for 7 years. During this time he did several other teacher trainings with John Friend, Richard Freeman, Sianna Sherman, and Mitchel Bleir.
Ken spent a year driving around the country studying and teaching before he decided to move to Miami in 2005. When he arrived in Miami, he was teaching Anusara Yoga and so was Lina Vallejo, the talented teacher who would become his partner. Lina encouraged him to base his classes on the cyclical patterns found in nature. She was convinced that this awareness would bring students into resonance with each other and with the larger flow of universal energy. She introduced him to the Dreamspell calendar and he began to integrate the teachings into his classes. He also began to include some of the scientific stretching techniques that he learned while practicing martial arts. After a few years Skanda Yoga began to emerge as a unique style and was later recognized as an independent style by the Yoga Alliance in 2011.
Ken has also been practicing Dream Yoga (Milam Yoga) for 20 years and was initiated into the Tibetan lineage by Lama Glenn Mullin. Ken offers workshops in Miami on Dream Yoga and has presented lectures at several conferences for the Summit Series. Dream Yoga (Milam Yoga) is the ancient Tibetan Buddhist practice of cultivating lucid dreaming. This class is an introduction to many techniques for cultivating conscious dreaming. Lucid dreaming can be used to free oneself from karmic conditioning, attachments, and habits. It presents a direct non-dual experience that is ideal platform for spiritual work, as the mind is not limited by the body.
Reiki sessions: Ken is available for private Reiki sessions and energy healing. Ken is certified as a Level III Reiki Master and has been practicing for over 10 years. He uses stones and crystals to amplify the energy and to clear the field of heavy vibrations from negative past experiences. He concludes the session by playing crystal bowls.
Dream Yoga sessions: Ken can give you the basics of Dream Yoga philosophy and practice techniques. He can assign homework for study and practice, as well as suggest mantras for meditation practice.