Download the Skanda Yoga Studio app to register in advance so the class can start on time.
Please arrive 5 minutes before class starts. To respect others, if you are late, please wait outside until the initial meditation is over. The teacher will reopen the door 10 minutes after class has started or sit quietly in the back of the room before putting down their rug if the door is open.
This is a sacred space, please dress appropriately when you come to practice. Don't wear transparent clothing that reveals too much and use the bathroom to change clothes.
Street shoes are not allowed in the yoga studio. Please store your shoes in the designated rack at the entrance of the studio.
Be sure to turn off your cell phone before entering class. Even the vibrate mode can disturb the class.
Store your bags and personal items on designated shelves.
Please remove all of your items from the classroom when you leave (water bottles, mat, towels, etc.). We are not responsible for any lost items; however, we do have a lost and found basket.
The studio is for you! Please keep it as beautiful as you found it.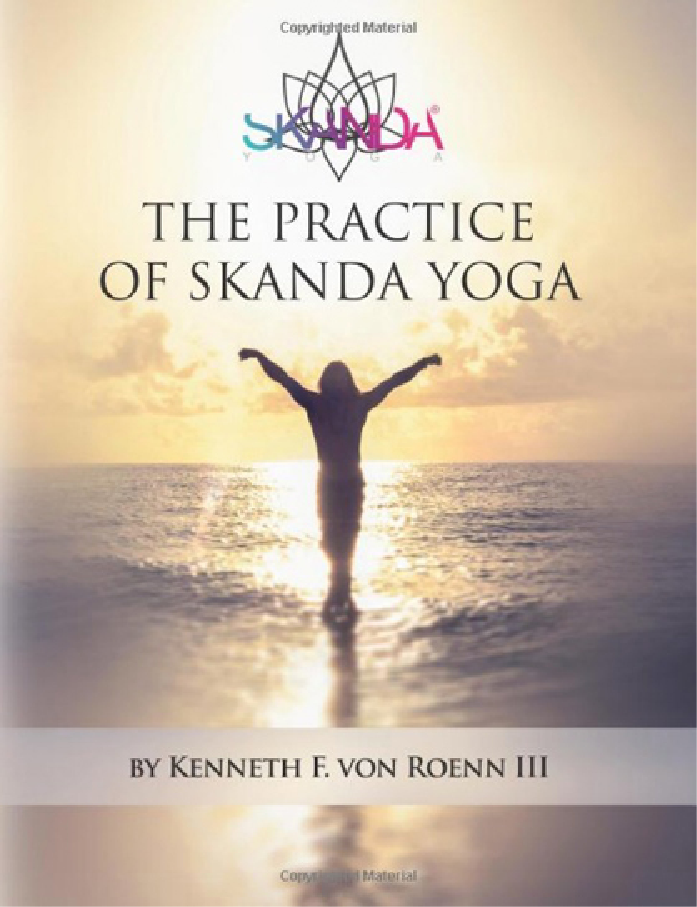 THE PRACTICE OF SKANDA YOGA
BY KENNETH F VON ROENN III
The Practice of Skanda Yoga presents a new system for progressing in hatha yoga based on Indian philosophy and mythology. Skanda Yoga is an alignment-based power yoga style. The book contains detailed instruction for 500 poses (700 images) with benefits, contraindications, and modifications. It presents alternate methods for acquiring an ideal form and how to apply modern scientific stretching techniques into traditional poses. It contains a restorative sequence, four initiation sequences, and 60 power yoga classes at 3 progressive levels that are based upon the 13-moon calendar known as the Dreamspell. It is a great resource for practitioners and teachers.
SKANDA YOGA: CLASSES OF ENCHANTMENT
BY KENNETH F VON ROENN III
Classes of Enchantment is the complimentary companion guide for The Practice of Skanda Yoga. It contains an introduction to the philosophy of Skanda, tips for developing an asana practice and creating a sacred space. It details 69 power yoga sequences with pictures and timing. There are four level 0 introductory practices, twenty main sequences at levels 1-3, and five level 4 master classes. The sequences follow the order of the Dreamspell calendar to bring practitioners into alignment with nature's cyclical patterns.
SKANDA YOGA STUDIO BY MINDBODY
Download the Skanda Yoga App today to plan and schedule your classes! From this mobile App you can view class schedules, sign-up for classes, view ongoing promotions, as well as view the studio's location and contact information. You can also click through to our social pages! Optimize your time and maximize the convenience of signing up for classes from your device! Download this App today!
SKANDA YOGA PRACTICE
-A daily practice yoga app for serious practitioners that want to advance their level.
-Approx. 500 poses with detailed alignment instruction.
-Classes follow the oracle of the 13-moon Natural Time Calendar known as the Dreamspell.
-There are 4 introductory classes, and 20 main classes at three different levels from beginner to advanced.
-The energy of the Dreamspell is displayed each day with the practice sequences.
-Contains detailed instruction for the Suns Salutation A & B.
-Detailed instruction and modifications for vinyasa techniques.
-Pranyama (breath control) and mudras (energy seals) are given for each day.
-Explanation of the day's energy with meditation, intention, and a focus to stay in remembrance throughout the practice.
-Displays the cycle of the moon.
6 Reasons to Practice Yoga at Our Studio
Exercise
Without a doubt, exercising has a myriad of positive effects for an individual. Yoga happens to be a form of exercise.
Improve Balance
The yoga poses that are taught in yoga are what primarily make up the uniqueness of this type of exercise. Many yoga poses are balancing poses.
Community
Though yoga is a very personal experience, the energy in a yoga class can be inspiring and motivating.
Increase Circulation
A huge component of yoga is the notion of controlled breath. Practicing yoga while also staying focused on one's breath is basically like a form of moving meditation.
Inner Peace
As previously stated, yoga can feel almost meditative, especially when practiced in the traditional sense.
ocus on the Present
While practicing yoga, a person must hold his or her body in certain poses that may seem obscure and may be physically challenging.