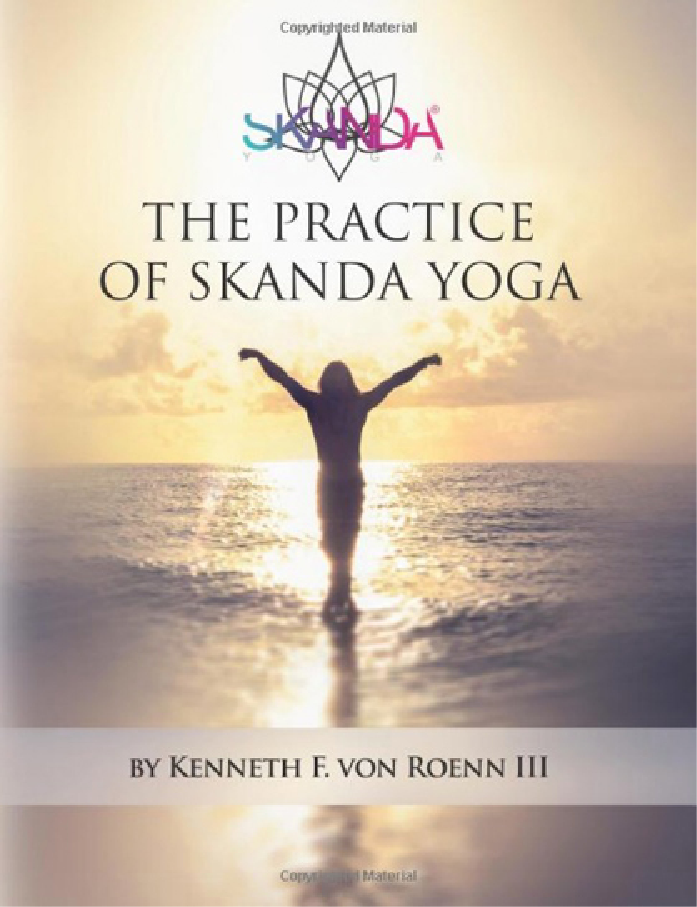 THE PRACTICE OF SKANDA YOGA
BY KENNETH F VON ROENN III
The Practice of Skanda Yoga presents a new system for progressing in hatha yoga based on Indian philosophy and mythology. Skanda Yoga is an alignment-based power yoga style. The book contains detailed instruction for 500 poses (700 images) with benefits, contraindications, and modifications. It presents alternate methods for acquiring an ideal form and how to apply modern scientific stretching techniques into traditional poses. It contains a restorative sequence, four initiation sequences, and 60 power yoga classes at 3 progressive levels that are based upon the 13-moon calendar known as the Dreamspell. It is a great resource for practitioners and teachers.
SKANDA YOGA: CLASSES OF ENCHANTMENT
BY KENNETH F VON ROENN III
Classes of Enchantment is the complimentary companion guide for The Practice of Skanda Yoga. It contains an introduction to the philosophy of Skanda, tips for developing an asana practice and creating a sacred space. It details 69 power yoga sequences with pictures and timing. There are four level 0 introductory practices, twenty main sequences at levels 1-3, and five level 4 master classes. The sequences follow the order of the Dreamspell calendar to bring practitioners into alignment with nature's cyclical patterns.
LA PRACTICA DE SKANDA YOGA
BY KENNETH F VON ROENN III
Nuestro primer libro de Skanda yoga ahora en Español!
La práctica de Skanda Yoga presenta un nuevo sistema para progresar en hatha yoga basado en la filosofía y la mitología indias. Es un estilo de yoga de poder basado en la alineación. El libro contiene instrucciones detalladas para 500 poses (700 imágenes) con beneficios, contraindicaciones y modificaciones. Presenta métodos alternativos para adquirir una forma ideal y cómo aplicar técnicas modernas de estiramiento científico en poses tradicionales. Contiene una secuencia restaurativa, cuatro secuencias de iniciación y 60 clases de power yoga en 3 niveles progresivos que se basan en el calendario de 13 lunas conocido como el Encantamiento del Sueño. Es un gran recurso para profesionales y profesores.
SKANDA YOGA STUDIO BY MINDBODY
Download the Skanda Yoga App today to plan and schedule your classes! From this mobile App you can view class schedules, sign-up for classes, view ongoing promotions, as well as view the studio's location and contact information. You can also click through to our social pages! Optimize your time and maximize the convenience of signing up for classes from your device! Download this App today!
SKANDA YOGA PRACTICE
-A daily practice yoga app for serious practitioners that want to advance their level.
-Approx. 500 poses with detailed alignment instruction.
-Classes follow the oracle of the 13-moon Natural Time Calendar known as the Dreamspell.
-There are 4 introductory classes, and 20 main classes at three different levels from beginner to advanced.
-The energy of the Dreamspell is displayed each day with the practice sequences.
-Contains detailed instruction for the Suns Salutation A & B.
-Detailed instruction and modifications for vinyasa techniques.
-Pranyama (breath control) and mudras (energy seals) are given for each day.
-Explanation of the day's energy with meditation, intention, and a focus to stay in remembrance throughout the practice.
-Displays the cycle of the moon.