SKANDA YOGA CLASSES
Skanda Yoga is a breath-inspired, alignment-based power vinyasa style that sets a physical and spiritual intention based on the daily oracle of the Mayan calendar system. We have 20 different sequences that allow for consistent progression while exploring different paths to open and strengthen the body. We offer different levels of classes, all of them are fun, challenging, inspiring, and self-empowering. Have in mind, however, that the levels for Skanda Yoga classes are not meant to correspond to the levels of other styles or studios. If you are an ashtanga vinyasa practitioner then our levels would be on par with the primary, intermediate, and advanced level. If you have never practiced ashtanga vinyasa or power yoga then consider scheduling a private yoga session, or attend a Skanda Yoga Basics class for beginners, so we can determine the appropriate class for you.
Skanda Yoga Basics: Beginners. Ideal if you are new to Skanda Yoga or Yoga in general.
Skanda Yoga Level 1: Continuing beginners. Ideal for students with at least 6 months of practice.
Skanda Yoga Level 2: Intermediate. Ideal for students with more than a year of practice.
Skanda Yoga Level 3: Experienced practitioners and yoga teachers.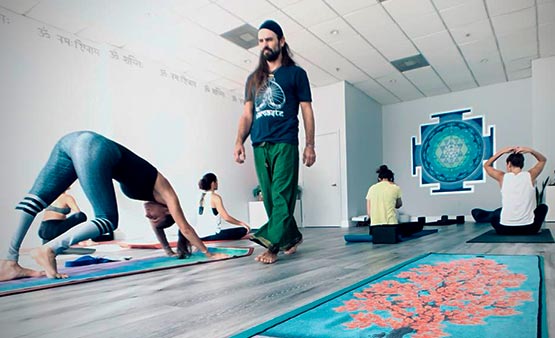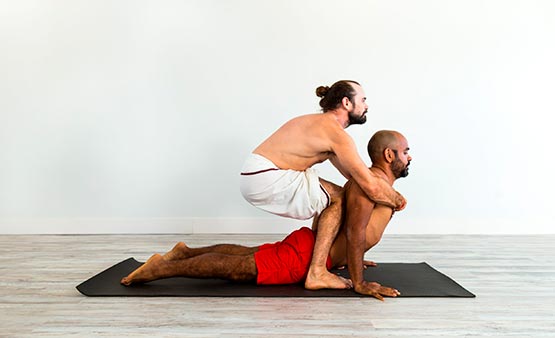 PRIVATE SKANDA YOGA CLASSES
Private yoga classes are highly recommended to deepen your practice, learn detailed yoga pose alignment, and cover your personal needs. You can work to prevent or heal an injury, or target a specific goal you want to achieve. It can be also used to cover topics that contribute additional hours towards your 300 hour yoga teacher training.
You can take yoga privates with the creators of Skanda Yoga Sadhana and Anand, or with any of our high level trained staff, at either of the Miami-based yoga studios located in the Brickell area of Downtown Miami, or in Key Biscayne.
RESTORATIVE YOGA CLASSES
Restorative yoga classes have a tremendous capacity to balance a busy, stressful lifestyle, helping students to relax physically and mentally. The use of props makes it easier for you to maintain proper alignment and completely rest in each restorative yoga pose. The poses are performed in a specific sequence, focusing on each major chakra (energy center) one-by-one to bring vitality and balance to the physical and energetic bodies. Visualization, mantras and aromatherapy are used throughout the class to increase awareness. Restorative yoga is of great benefit for active athletes on "rest days," people with injuries, beginners to yoga, and anyone who wants to experience relaxation.