200 HRS TEACHER TRAINING 2022
WITH ANAND & SADHANA
$4,800 IN STUDIO
$3,000 ONLINE
With $500 USD non refundable deposit
This program is designed for students that want to go deep into the study of yoga and want to begin to learn the art of teaching. It is a 4-month program that meets on weekends 3-6:30pm. Graduates will be open for RYT credential with Yoga Alliance. The course includes unlimited classes at Skanda Yoga Studio during the training.
If you are interested in applying* to the Skanda Yoga Teacher Training Program, please contact us at: skandayogastudio@gmail.com
BENEFITS:
Strengthen asana practice.
Deepen meditation practice.
Learn about mythology and philosophy.
Learn therapeutics and anatomy.
Learn how to assist students.
Enhance personal freedom and self-empowerment.
And more!
Teacher Training Topics Covered
Intro to Skanda Yoga and History of Hatha Yoga
Action an Alignment in Asana
Setting Spiritual Themes. The Power, Action, and Essence of teaching.
Scientific Stretching Techniques (anatomy of stretching)
Assisting students in basic poses
Assisting students in Advanced poses
Verbal Skills for teaching instructions
Review assisting and practice teaching
Anatomy of Chakras (diagnosing with pendulum)
Mudra, Bandha, and Pranayama
Yoga Philosophy and Mythology
Classical Yoga Philosophy
Vedanta & Tantra philosophy
Anatomy and Therapeutics (inner body)
Anatomy and Therapeutics (upper body)
Anatomy and Therapeutics (lower body)
Bhagavad Gita
Advanced Skanda "Practice"
Practice Teaching & Review
Sanskrit quiz & Therapeutics review
Teaching and assisting
Teaching Test
Adjusting and Assisting exam
Asana & Sanskrit exam
Final written exam
BOOK REQUIREMENTS
The practice of Skanda Yoga by K.F. von Roenn III.
Moola Bandha: The Master Key by Swami Buddhananda.
Hatha Yoga Pradapika by Swami Muktibodhananda.
The Key Muscles of Hatha Yoga: Scientific Keys Volume I by Ray Long MD.
13-Moon Natural Time Calendar by Jose Arguelles.
The Yoga Sutras (any translation).
Bhagavad Gita.
The Upanishads.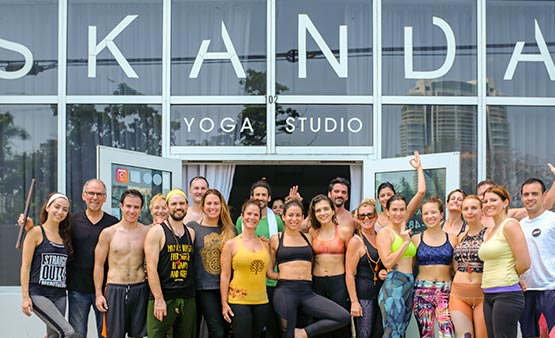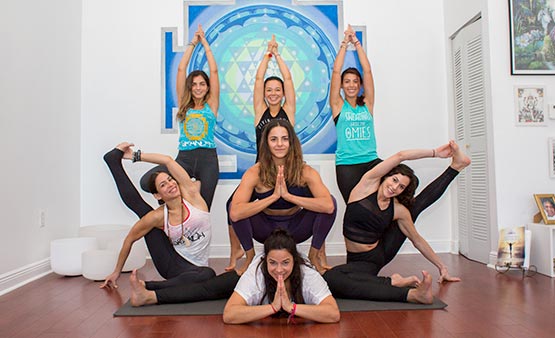 REQUIREMENTS
Attendance to all classes on designated Saturdays and Sundays 3:00-6:00.
Attendance to 3 additional classes during each week.
Daily journaling and meditation practice.
Observing 8 classes.
Assisting in 8 classes.
Teaching 8 classes.
A strong desire to work hard.
Contact us to get the digital brochure with all the information about our Skanda Yoga teacher training and to answer any questions: skandayogastudio@gmail.com
Dates and required Texts
Sept 3rd: Intro. to Skanda Yoga Philosophy and Practice
Sept 4th: Sun Salutations with Skanda techniques
Sept 10th: Comparing and Contrasting Alignment Techniques
Sept 11th: Inversions: technique, modifications, and training.
Sept 17th: Advanced Scientific Stretching Techniques (proprioceptive neuromuscular facilitation, pneumomuscular flexibility training, and shutdown threshold isometrics)
Sept 18th: Adjusting Students in Basic Poses
Sept 24th: Supporting and assisting students in challenging poses
Sept 25th: Maya Calendar: theme setting and weaving
Oct 1st: Introduction to teaching using verbal cues
Oct 2nd: Mythology and Introduction to yoga philosophy
Oct 8th: Practice Teaching
Oct 9th: review adjustments
Oct 8th: Chakra system and energy body
Oct 9th: restorative yoga
Oct 15th: Yoga Sutras
Oct 16th: Bhagavad Gita
October 22nd: Anatomy
October 23rd: Anatomy
October 29th: Anatomy
October 30th: Anatomy
Nov 5th: Pranayama and Meditation
Nov 6th: Practice teaching and adjustment review
Nov 12th: Non-dual yoga philosophy of Kashmir Shaivism and Shaktism
Nov 13th: Moola Bandha the Master Key and hatha Yoga Pradipika
Nov 19th: Mudras and guided meditations
Nov 20th: Puja (ritual worship) and Sanskrit chanting
Nov 26th: Review course
Nov 27th: Practice Teaching and adjustments
Dec 3rd: Practice Teaching and adjustments
Dec 4th: Final review
Dec 10th: Teaching Test
Dec 11th: Teaching Test
Dec 17th: Blindfold asana test
Dec 18th: Final Written Exam
Required texts
The Practice of Skanda Yoga
Classes of enchantment
The Hatha yoga Pradipika
The Moola Bandha: The Master Key
Scientific Keys Vol 1.
The Bhagavad Gita
The Yoga Sutras
The Upanishads
The 13-Moon Galactic Time Calendar