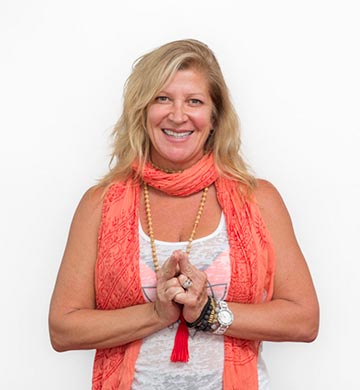 April is a seasoned yoga practitioner and teacher with Yoga Alliance ERYT 500 YACEP Certification.
Her journey started over 20 years ago after a knee injury. Yoga healed her and became the exercise of choice but….she instinctively knew there was more to it. After moving to Miami from NY in 2009 she wanted to deepen her practice, subsequently becoming 200 RYT certified. Yoga became a way of life. She found Skanda Yoga and knew this is where she wanted to practice and study more, receiving her second 200-hour RYT certification from Skanda in August 2017 and 300-hour certification in March of 2020. She is now an active 500 YACEP with Yoga Alliance and a Skandati. 🦚
Through her artistic talents, she makes mala's, paints yantra's, and makes her own playlists with a holistic approach. Each class with April will be different, moving with the energy of the day, learning new asana's, mantra's, mudra's and pranayama. If you are a beginner to yoga or an advanced practitioner, you will be inspired by her knowledge, clarity, guidance, fun music and overall great vibe. 🙏
Interested In
Join Our Team?
Vestibulum libero nisl, porta vel, scelerisque eget, malesuada
at, neque. Vivamus eget nibh. Etiam cursus leo vel metus.
Sed laoreet aliquam leo

Cursus eleifend elit

Aenean auctor wisi