Yoga Teacher Training 2022
The Skanda Yoga Teacher Training program is a 200-hour course certified by Yoga Alliance. The upcoming training will meet on weekends 3-6pm. The course is designed for those who wish to pursue teaching, or refine their teaching skills, and is also open to students that simply want to learn more about yoga. Those who complete the course will be eligible for Skanda Yoga RYT 200 certification and Yoga Alliance registration.
If you are interested in applying* to the Skanda Yoga Teacher Training Program, please contact us at:skandayogastudio@gmail.com
Benefits
Strengthen asana practice.
Deepen meditation practice.
Learn about mythology and philosophy.
Learn therapeutics and anatomy.
Learn how to assist students.
Enhance personal freedom and self-empowerment.
And more!
Teacher Training Topics Covered
Intro to Skanda Yoga and History of Hatha Yoga
Action an Alignment in Asana
Setting Spiritual Themes. The Power, Action, and Essence of teaching.
Scientific Stretching Techniques (anatomy of stretching)
Assisting students in basic poses
Assisting students in Advanced poses
Verbal Skills for teaching instructions
Review assisting and practice teaching
Anatomy of Chakras (diagnosing with pendulum)
Mudra, Bandha, and Pranayama
Yoga Philosophy and Mythology
Classical Yoga Philosophy
Vedanta & Tantra philosophy
Anatomy and Therapeutics (inner body)
Anatomy and Therapeutics (upper body)
Anatomy and Therapeutics (lower body)
Bhagavad Gita
Advanced Skanda "Practice"
Practice Teaching & Review
Sanskrit quiz & Therapeutics review
Teaching and assisting
Teaching Test
Adjusting and Assisting exam
Asana & Sanskrit exam
Final written exam
Book Requirements
The practice of Skanda Yoga by K.F. von Roenn III.
Moola Bandha: The Master Key by Swami Buddhananda.
Hatha Yoga Pradapika by Swami Muktibodhananda.
The Key Muscles of Hatha Yoga: Scientific Keys Volume I by Ray Long MD.
13-Moon Natural Time Calendar by Jose Arguelles.
The Yoga Sutras (any translation).
Bhagavad Gita.
The Upanishads.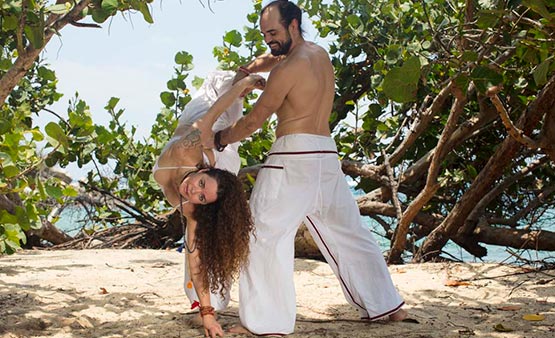 Requirements
Attendance to all classes on designated Saturdays and Sundays 3:00-6:00.
Attendance to 3 additional classes during each week.
Daily journaling and meditation practice.
Observing 8 classes.
Assisting in 8 classes.
Teaching 8 classes.
A strong desire to work hard.