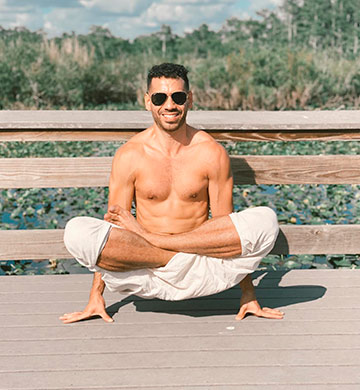 Zarid Urbina has been practicing yoga for over a decade. He completed his 500-hour yoga teacher certification in 2015 through Skanda Yoga Studio in Miami, Florida as well as a certification in Vedic Thai Yoga in 2014. His teaching skills have taken him to Colorado, South Florida, Colombia and even India.
His passion and love for the practice continues to transform his life and can be seen through his student-focused teaching in group classes and private lessons. Zarid constantly challenges the body and mind as he pushes each student to reach their maximum potential every class. He enjoys backbends and inversions but most of all, he loves individually helping students reach personal goals and overcome physical and emotional pain.
Recently featured on Telemundo, Zarid teaches a variety of classes including Pre-Natal, Ashtanga, Vinyasa, Restorative, and ultimately seeks to share his passion of yoga with as many people as possible.
Zarid is excited to offer a tropical yoga retreat to Costa Rica where students of all levels can enjoy a 6-day, 5-night opportunity to unite with nature, step away from electronics, and go within to find peace and personal meaning.
Interested In
Join Our Team?
Vestibulum libero nisl, porta vel, scelerisque eget, malesuada
at, neque. Vivamus eget nibh. Etiam cursus leo vel metus.
Sed laoreet aliquam leo

Cursus eleifend elit

Aenean auctor wisi